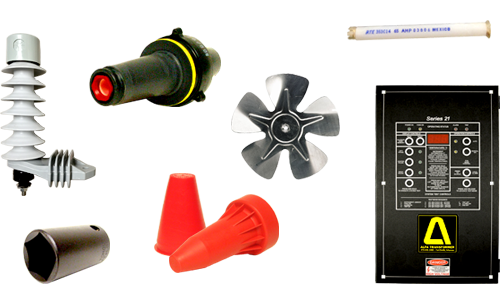 Most local distributors don't stock all of the components needed to install a transformer or replace those that fail like fuses, inserts, elbows, fans, etc. We can ship many transformer components from stock so you can get your transformer up and running. (Some components like live front porcelain bushings may not be in stock and require longer lead times from a few days to a few weeks.)
Dead front connectors - inserts, feed thru inserts, elbows, protective caps, dust caps, etc.
Primary and secondary bushings
Bay-O-Net fuse links and cartridges, drip guards, isolation links
Fans - controllers, motors, and blades
Surge arresters - live front and dead front
Gauges - liquid level, temperature, pressure/vacuum
Stickers - KVA, voltage, warning/danger, non-PCB, and more
Fluids - transformer mineral oil and FR3
dead front components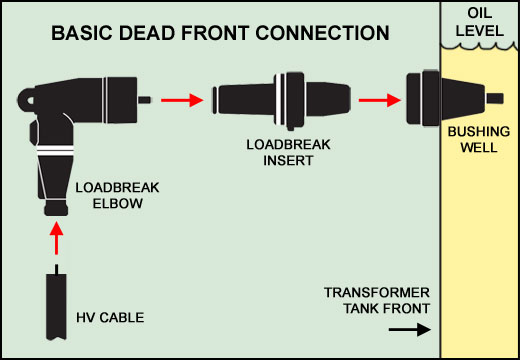 BUSHING WELLS - A 200-amp bushing well is installed when a transformer is manufactured. It connects internally to a lead and has an external threaded stud to accept a loadbreak insert. Bushing wells cannot be replaced unless the oil level is below the holes in the tank for the wells. The most common bushing well is rated at 15kV 200 amps.
LOADBREAK INSERTS - A loadbreak insert threads into a bushing well to provide the same function as an integral loadbreak bushing. Using bushing inserts makes field installation and replacement possible and efficient. Bushing inserts and elbow connectors comprise the essential components of all loadbreak connections. The loadbreak insert accepts the probe of a similarly rated loadbreak elbow.
LOADBREAK ELBOW - A loadbreak elbow is is connected to a cable and has a probe that slides into a loadbreak insert. For more information on elbows, see "Specifying Elbows" below.
DEADBREAK CONNECTORS - For loads that will exceed the 200-amp rating of dead front loadbreak connectors, there is a 600-amp alternative. The components include a 600-amp one-piece bushing that is installed when the transformer is manufactured. A 600-amp deadbreak elbow has a threaded stud that is screwed into the one-piece bushing.
specifying elbows
To select the correct loadbreak elbow for your application, please read the following:
CABLE SIZE: - The size of the cable that will connect to the elbow is required. (#2, 1/0, etc.)
INSULATION THICKNESS: - The thickness of the cable insulation is required. This is usually expressed in a percentage such as 133%, 200%, etc.
SHIELDED OR CONCENTRIC NEUTRAL: Is the cable shielded or does it have a concentric neutral?
STANDARD RATINGS: - Standard ratings for elbows are 200-amp and 600-amp. They are not interchangeable. The 200-amp loadbreak elbows have a smooth probe that slides into a 200-amp loadbreak insert. 600-amp deadbreak elbows have a threaded stud that screws into a 600-amp one-piece bushing.
LOOP FEED APPLICATIONS: - If you will be using a loop feed system, you need to make sure your connectors are rated properly. For example, if you have four transformers in your loop, the connectors (elbows, inserts, and wells - or one-piece bushings) of the first transformer in the loop will carry the current of all four transformers.