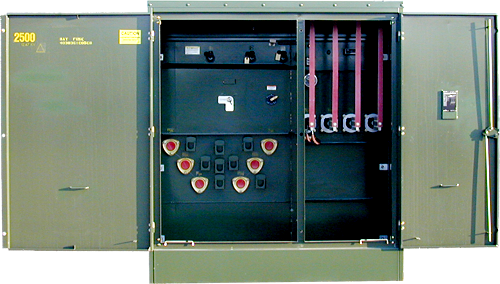 Alfa Transformer stocks new and reconditioned, three-phase, tamper-resistant, pad mounted transformers through 3000 KVA. New transformers can ship immediately while most reconditioned units can ship in as little as a few days.
quick ship program
New, Three-Phase Pad Mounted Transformers
Lead Times: Stock to 2 weeks, 2-4 weeks, and 4-6 weeks
150-2500 KVA (480Y/277)
150-1000 KVA (208Y/120)
HV: 14400, 13800, 13500, 13200, 12840, 12470, 12000
FR3 fluid filled
Dead front, loop feed
Primary wells and inserts
Secondary spade terminals
Bayonet fusing in series with ELSP fuses
Two-position "on/off" loadbreak switch
De-energized 7-position tap changer
Pressure relief valve
65°C rise
60 cycles
DOE compliant
FM Approved (outdoor)
UL Listed
built-to-spec pad mounted transformers - standard features*
To 5000 KVA
HV up to 34.5 kV
LV up to 600V
Lead Times**: Typically 10-12 weeks on units 2500 KVA and below
Lead Times**: Typically 12-14 weeks on units 2501 to 3750 KVA
Lead Times**: Typically 14-16 weeks on units above 3750 KVA
Mineral oil
65ºC temperature rise
Operating altitude - 3,280 ft AMSL (1000m)
Live or dead front
Loop or radial feed
Secondary spade terminals
De-energized tap changer
Door locking mechanism
Pentahead bolt(s) on cabinet doors
Grounding pads
Pressure relief valve
Upper fill plug
Drain valve with sample port
Non-PCB identification
Standard "pad mount green" paint
Manufactured and tested per applicable ANSI and NEMA standards
DOE 2016 energy efficiency standards on non-exempt units
built-to-spec pad mounted transformers - optional features*
FR3 fluid (or equal)
55/65ºC temperature rise
Feed thru inserts on dead front units
Bayonet fusing
Under oil partial range current limiting fuses
Weak link fuses
Two or four-position loadbreak switch
Liquid level gauge
Temperature gauge
Pressure/vacuum gauge
Gauges with alarm contacts
Cover-mounted pressure relief device
Upper fill valve
Step-up duty
Other ratings, features, and accessories available on request

* Features and accessories may vary on non-new and 'in stock' transformers.
** Lead times vary.